The final found of the Tran Huu Tran Cai Luong Awards 2014 opened at the Ho Chi Minh City Stage Association Office on March 22-23.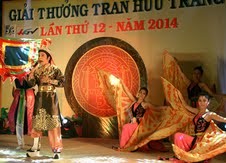 Cai luong actor Vu Luan performs at the opening ceremony of the event.
A total of 35 competitors from HCMC and Mekong Delta provinces will participate in the final round at Vi Thanh City's Children Cultural House in Hau Giang Province on March 28-30.
Many current famous cai luong artists became famous after winning the prize including Vu Linh, Thanh Thanh Tam, Phuong Hang, Kim Tu Long, Thoai My and Thanh Ngan.
The competition aims to preserve and popularize the style of cai luong.
The competition is organized by the Ho Chi Minh City Stage Association, Hau Giang Television and the organization of Bac Lieu 'Don Ca Tai Tu' or Southern Amateur Music Festival 2014.