The Tran Temple Festival, one of the biggest annual spring festivals in Viet Nam, opened at the national historical complex of the Tran Kings' shrines and tombs in Hung Ha District, northern province of Thai Binh, on Saturday (the 13th day of the first lunar month).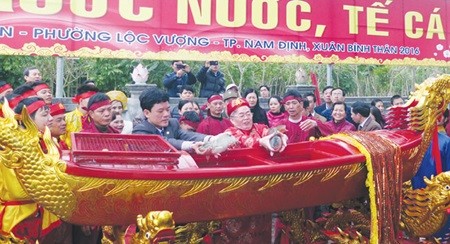 Representatives move fish caught in an ancient pond to a boat to offer them to the Tran Kings at the Tran Temple Festival, one of the biggest in Viet Nam.
During the first day of the four-day festival, an incense-offering rite at the Kings' tombs and a ritual for the opening of the gates of Den Thanh (Saint Temple), Den Mau (Mother Goddess Temple) and the Tran Kings' shrines took place.
That was followed by a water procession, in which about 1,000 people carried nine ornate palanquins with memorial plaques of the Kings of the Tran Dynasty and members of their royal families.
On the opening night, an hour-long performance of Sang Mai Mot Vuong Trieu (A Dynasty Shines Forever) recreated milestones of the Tran Dynasty (1225-1440).
A series of folk games will also be organised during the festival, including a rice-cooking challenge, clay firecrackers, chung (sticky rice) cake making and tug of war.
The Tran Temple Festival was recognised as part of national intangible heritage in 2014. The historical complex of the Tran Kings' shrines and tombs received special national relic status last year.
The Tran Dynasty repelled the Yuan-Mongol invasion on three occasions.

Thai Binh is considered the birthplace of the Tran Kings, while the neighbouring province of Nam Dinh was their first residential area. A spring festival is also held at the Tran temple complex in Nam Dinh during the first lunar month every year.