Truong Sa Day is slated to be one of the highlights of the Sea Festival 2011 to take place in the coastal city of Nha Trang in Khanh Hoa Province from June 11 to 15.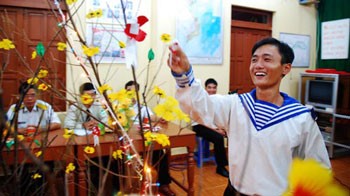 Soldiers on Truong Sa Dong Island celebrate Lunar New Year 2011 (Photo:

The day will include a seminar, photo exhibition, musical performance and a film screening about Truong Sa archipelago and the Vietnamese island.
The festival theme "Nha Trang-the sea rendezvous" will include 50 programs such as the Miss Khanh Hoa beauty contest, a street festival, Cau Ngu whale worship festival, bird's nest festival, a food fair, a photo and painting exhibition, a sculpture camp, the High-Quality Vietnamese Goods Fair, a film week and art performances.
The Festival is organized every two years as a regular cultural event and is expected to promote the traditional cultural values and the potential economic, cultural and tourism opportunities of the province.