Five episodes of a 100-part documentary TV series titled 'Legend of Vietnamese heroic mothers' have been completed and were screened on HVT9 channel during the Tet Lunar New Year holidays.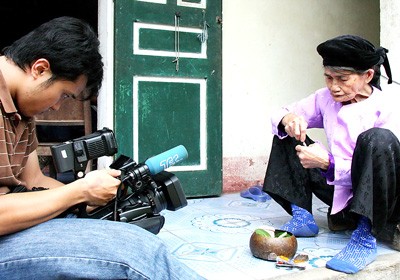 A scene from the documentary film series on Vietnamese heroic mothers.
The documentary TV series are stories of 100 Vietnamese heroic mothers from across the country. Each had a different story and faced a different and difficult situation during the country's most trying times, but stoically maintained their faith to their country, sacrificing all they had to gain freedom.
During the country's most treacherous times, husbands and sons of mothers Nguyen Thanh Tung (Nguyen Thi Diem), Nguyen Thi Chit, Tran Thi Quang Man and Ha Thi Thang became martyrs.
The country has around 47,000 heroic mothers. The documentary series of 100 Vietnamese heroic mothers aims to keep alive the heroic heritage of the past and build an archive of Vietnamese heroic mothers to educate coming generations.
It also aims to highlight the sacrifices of Vietnamese women, their traditional role and contribution towards national liberation in the eyes of the youth of the country, honour their skills and responsibilities to their household and their valour during war time.
The series are directed by Ly Quang Trung, scripted by Tram Huong and produced by TFS Studio. After the Tet holidays, TFS film staff has continued to travel cities and provinces nationwide, especially in remote mountainous areas to record daily activities of heroic mothers.