The Vietnam Television's Channel 6 (VTV6) broadcast live a programme on April 21 to highlight the Dien Bien Phu Victory on May 7, 1954, which ended the French colonial rule in Vietnam.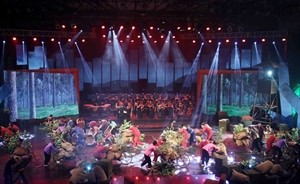 Artists replicate the scene of carrying rice to the battlefield (Photo: VNA)
The "Dien Bien Phu – symphony of peace" programme featured the Vietnamese people's aspiration for peace and their determination to fight for independence as well as international friends' support and assistance for the struggle.
The victory also helped fuel the desire for freedom in Indochina, comprising Vietnam, Laos, and Cambodia.
 
Movies and reportages plus special symphonies about the sound and creative people-based war strategy designed by the Party, President Ho Chi Minh and General Vo Nguyen Giap became the spotlights of the event.
Audiences also had a chance to talk with war veterans who shared a lot of stories on the battle that had never been told before.
Dien Bien Phu was a complex of strong fortresses with 16,200 French troops, the most seasoned in Indochina , stationed in 14 fortifications of three sub-divisions.
At 3:00 pm on May 7, 1954, the Vietnamese army launched a massive attack on the headquarters of General Christian De Castries. The French commander at Dien Bien Phu was captured. The "Quyet chien, quyet thang" (Determined to fight and to win) flag handed over by President Ho Chi Minh proudly flew above the De Castries' bunker. The Dien Bien Phu Campaign came to a complete victory.
The victory was a vivid manifestation of the gigantic growth of the Vietnamese army. The ten-year-old force, led by General Vo Nguyen Giap, created an everlasting epic of Vietnamese brainpower and stuff.
Sixty years have passed but the lessons of the Dien Bien Phu Victory still keep their value, which have been applied to the resistance war against the US for national salvation and the cause of national construction and defence in peaceful time.