In an effort to help heighten the youths' awareness of our ancestors and their services to the country, the two high schools Tran Khai Nguyen and Hung Vuong have celebrated the Memorial Day of Hung Kings, who, according to legend, founded the Van Lang-Au Lac civilization, the first kingdom of people.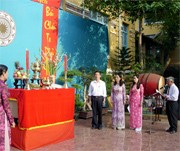 Teachers of Tran Khai Nguyen high school in front of the altar ( Photo: Uyen Phuong)

In front of the altar, Vice-principal of Tran Khai Nguyen high school Tran Huy Anh read a speech to remind people of Hung Kings' merits to our country. After that teachers and pupils took turn to offer incense.

In the ceremony at Hung Vuong high school, the festival went on in a nostalgic atmosphere with many traditional activities including incense offering, musical performance, and folk games.
Among the invited guests were Deputy Director of Ho Chi Minh City Education and Training Department Nguyen Van Ngai, officials from the Department, retired teachers, alumnae and representatives of the local government and unions.