The latest UK hip hop sensation Akala, who won the 2006 MOBO Award in Best Hip Hop, will perform at the Hai Ba Trung stadium in Ha Noi on Oct 27 and at the Lan Anh music club in Ho Chi Minh City (HCMC) on Oct 29.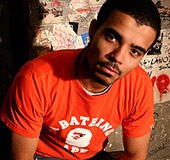 Akala
At the performance in HCMC, Akala will perform with DJ Joan Flerin, drummer Richard Cassell, and VN hip hop artists Kim, Tien Dat, Big Toe band and T&A dance troupe.
The concert is one of the many activities incorporated into the UK education month in Viet Nam. Anyone can pick up free tickets from the British Council Offices at 40 Cat Linh Street in Ha Noi and 25 Le Duan Street in HCMC.
Akala, 23, grew up in North London and writes his own music based on his many life experiences. "All of my music is life," he said. "My music is very autobiographical". His music is an influx of inspiration.
Akala released his debut album, Its Not a Rumour, in April on Illa State Records and burst onto the music scene last summer with his double-A side single 'Banga 4 Da Streets/War'. He immediately received attention from MTV and fans around the UK.
http://www.thesituation.co.uk/ukartists/05/akala/akala.htm
http://www.akalamusic.com