A film about Uncle Ho's early life, "Nhin ra bien ca" (Look out over the sea), by scriptwriter and Hodafilm's director Nguyen Thi Hong Ngat, will be on screens by 2010 to celebrate his 120th birthday.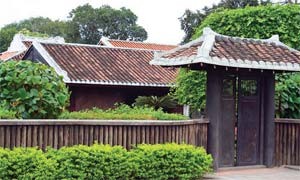 Duc Thanh Primary School, where Nguyen Tat Thanh (Ho Chi Minh) taught at young age (Photo: SGGP)
The script won the second prize at a film competition held last year by the Cinema Department.  
The competition was held to support the campaign "Study and Follow Uncle Ho's Example." 
The film presents Uncle Ho during his eleven years of teaching at Duc Thanh primary school in Phan Thiet City, Binh Thuan Province, from 1910.  
This new take on his early life provides film makers with an opportunity to bring a fresh insight to audiences.  
The film will present a young, street-wise and dedicated teacher, Nguyen Tat Thanh, who later became President Ho Chi Minh.  
The story will also tell of the school's patriotic founders, who had an important impact on his life, which led to his determination to travel overseas to find ways to liberate the Vietnamese people from French colonials. 
In June, the film crews will visit Phan Thiet City to research locations. 
According to Ms. Ngat, the film does not have many locations but does require authentic period backgrounds and costumes.  
There are some scenes that will require many extras, including the large demonstration by farmers in Hue against excessive taxation in 1908, and a scene at a train factory owned by the French. 
The film will shoot in the central southern region, visiting Hue, the coastal city of Quy Nhon and Phan Thiet city.  
The film's budget is estimated to be VND7 billion (US$400,000). 
The Ministry of Finance and relevant ministries have submitted a proposal to the Government for funding.  
The Party Central Committee's Department for Propaganda and Training also sent an official correspondence to the Government, urging speedy funding to ensure the film is finished before Uncle Ho's 120th birthday (May 19, 2010). 
Hodafilm, the production company behind the film, said they had already found a very-experienced director with a deep knowledge of Uncle Ho. The name of the director is yet to be released.