UNESCO officially recognized Ba Be Lake in the northern mountainous province of Bac Can as the third Ramsar site in Vietnam on June 5, World Environment Day.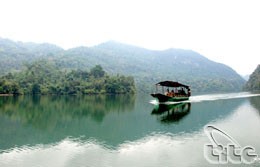 Ba Be Lake
Ba Be Lake was mentioned at the Ramsar Convention on February 2, as a Wetland of International importance. Earlier, Xuan Thuy National Park in Nam Dinh Province was mentioned in 1988, Bau Sau in the Nam CatTien National Park of Dong Nai province and Lam Dong and Binh Phuoc were mentioned in 2005.
Ba Be is the largest natural lake in Vietnam. It was formed approximately 200 million years ago. The lake is surrounded by limestone cliffs, which in turn are covered by primary forests.

Ba Be Lake is a featured geographical biodiversity reservoir. It is a part of the Ba Be National Park.
The Ramsar Convention (The Convention on Wetlands of International Importance, especially for Waterfowl Habitat) is an international treaty for the conservation and sustainable utilization of wetlands, to stem the progressive encroachment on and loss of wetlands now and in the future, recognizing the fundamental ecological functions of wetlands and their economic, cultural, scientific and recreational value. It is named after the town of Ramsar in Iran.
The Biodiversity Conservation Agency of Ramsar in Viet Nam is now working on the nomination of Tram Chim National Park in the Mekong Delta as Vietnam's fourth Ramsar site.