Last year can be seen as a successful year to Ho Chi Minh-based publishing houses and bookstores, as they had a lot of bestsellers on the city's book market.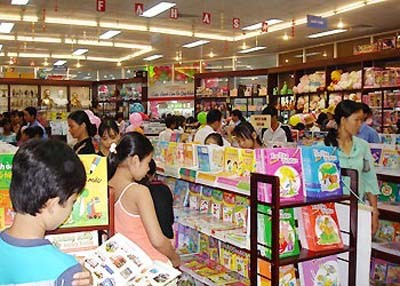 A scene inside Fahasa bookstore in Ho Chi Minh City
Hot books

"Last year we were rather successful in publishing domestic literary works," said Cao Xuan Son, deputy director of the Kim Dong Publishing House. 
Among Kim Dong's hot books were some works by writer Nguyễn Nhật Ánh, who won the ASEAN Literature Award 2010 for his book "Give me a ticket back to childhood"; and "Cẩm nang sống 4 teen" (Life Skills Manual for Teenagers) by authors Luu Thi Luong, Phan Hon Nhien, Duong Thuy, Nguyen Huong and Bich Khoa. 
The publishing house's hot books also included the Vietnamese translation of Doreamon, a foreign comics for children, on the International Children's Day (June 1); "Cậu Bé Rồng" (Dragon Boy), a Vietnamese cartoon attractive to children; a set of vocational cartoons titled "Những người sống quanh em" (People around you); and some other comics including Tom & Jerry and Scooby Doo. 
Meanwhile, the Tre Publishing House published political themed books like "Võ Văn Kiệt – Người thắp lửa" (Vo Van Kiet, the lighter of the flame) and "Bí thư Tỉnh ủy" (The Provincial Party Committee's Secretary), among others. 
Most remarkable among economic books were "Nghệ thuật ăn trưa bàn công việc" (The Art of the Business Lunch) by Robin Jay, and "Nhà tự nhiên kinh tế" (The Economic Naturalist) by Robert H. Frank. 
In the filed of literature, Tre was successful with "Nhắm mắt thấy Paris" (Paris seen with eyes closed) by Duong Thuy, "Bị đánh dấu" (Marked) by P.C Cast ans Kristin Cast, "Tuần đêm" (Night Patrol) by S. Lukianenko, and other works that won the fourth Award of Age of 20 Literature.  
It also published interesting scientific works such as "Sinh vào ngày xanh" (Born on a Blue Day) by Daniel Tammet and "Dòng sông trôi khuất địa đàng" (River Out of Eden) by Richard Dawkins. 
To welcome the 1000 anniversary of Thang Long-Hanoi, the publishing house launched "1.000 năm Thăng Long-Hà Nội" by Nguyen Vinh Phug, and "Một số tư liệu quý về Hà Nội" (Valuable Materials on Hanoi) by several authors.  
The Media Department of the Tre Publishing House said the above-mentioned hot books were selected by readers, bookstores, and some websites. 
Le Huyen, a staff member of Nguyen Van Cu Bookstore, said law books such as the Civil Code, Penal Code, and Commercial Law were among the bookstore's bestsellers last year. 
The bookstore's hot books also included Political themed works auch as Giáo trình chủ nghĩa xã hội (Socialism Curriculum), Triết học Mác-Lênin (Marxist-Leninist Philosophy), Tư tưởng Hồ Chí Minh (Ho Chi Minh's Thought), etc.  
Nguyen Truong, Chief of the Editorial Board of the Southern Branch of the Thanh Nien Publishing House, said books that are related to activities of the Ho Chi Minh Communist Youth Union and the Ho Chi Minh Young Pioneer Organization were also in the publishing house's hot books. 
Bookstore Fahasa's Marketing Department said readers paid special attention to translated literary works, especially novels based on which films had been produced. 
In addition, several audio books that sold well last year included like "Con cá mày ở trong nhà" (The fish that lives in the house) by Luu Thi Luong, "Giận" (Anger) by Thich Nhat Hanh, "Cánh đồng bất tận" (Boundless rice field) by Nguyen Ngoc Tu and "Hiểu về trái tim" (Understanding about the heart). These books were read by well-known artists, singers, models, and winners of pageant contests.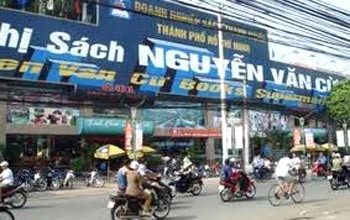 Nguyen Van Cu Bookstore in District 10, HCMC

Top best sellers


 
Among the seven top bestsellers of Fahasa in 2010, six are translated books, including "Tôi tài giỏi, bạn cũng thế" (I am gifted, so are you!) and "Bí quyết trắng tay thành triệu phú" (Secrets of self made millionaires) by Adam Khoo, "Biểu tượng thất truyền" (The Lost Symbol) by Dan Brown, "Kẻ cắp tia chớp" (The Lightning thief) by Rick Riordan, and "Đàn ông giấu phụ nữ điều gì trong kinh doanh (What men don't tell women about business) by Christopher V. Flett.
 
Similarly, the bestsellers of Nguyen Van Cu Bookstore were foreign literary works, including "Chiếc lọ Giáng sinh kỳ diệu" (Christmas jars) by Jason F. Wright, "Trăng xanh" (Blue Moon) by Alvson Noel, "Không gia đình" (Sans famille) by Mector Malot, "Trà hoa nữ" (La Dame aux camélias) by Alexandre Dumas, "Con hủi" (Tredowata) by Helena Mniszek), "Tái bút, anh yêu em" (P.S. I love you) by Cecelia Ahern, and "Sherlock Holmes" by Conan Doyle.
 
Meanwhile, literary works by Vietnamese writers had to compete with their rival counterparts with the works that were bestsellers in 2009 and 2008, including "Công ty" (Company) by Pham Hon Nhien; some works by Duong Thuy including "Oxford thương yêu" (Beloved Oxford) and "Nhắm mắt thấy Paris" (Paris seen with eyes closed); "Cánh đồng bất tận," "Giao thừa" and "Khói trời lộng lẫy" (Boundless rice field, New Year's Eve, and Splendid sky smoke) by Nguyen Ngoc Tu; and "Tôi thấy hoa vàng trên cỏ xanh" (I see yellow flowers on the green grass) by Nguyen Nhat Anh.
 
Meanwhile, Phuong Nam Books Company said its top best-selling books last year included the Vietnamese translations of several Chinese martial arts novels, "Nhật ký ma cà rồng" (Vampire Diaries) by L.  Smith, "Cuốn sách nhỏ giúp quản lý tài sản" (The little book that saves your assets) by David M. Darst, "Nói sao cho trẻ chịu học & Nói sao cho trẻ chịu nghe" (How to talk so kids will listen & Llisten so kids will talk) by Adele Faber & Elaine Mazlish), "Kiều nữ lắm chuyện" (Gossip Girl) by Cecily Von Ziegesar), and "Tự điển tình yêu" (The Dictionary of Love) by John Stark.
 
Along with those translated works were Vietnamese books such as "Hồi ký Trần Văn Khê" (The Memoirs of Tran Van Khe) by Tran Van Khe, "Khói trời lộng lẫy (Splendid sky smoke) by Nguyen Ngoc Tu, "Onkel yêu dấu" (Beloved Onkel) by Tran Thuy Mai, "Bí ẩn tam giác vàng" (Mysterious Golden Triangle) by Nguyen Nhu Phong, "Thở sâu" (Deep breath) by Tran Thi Hong Anh, and "Mẹ ơi" (Dear mom) by Diep Hong Phuong.