A photo exhibition called "The unforgettable moments" began on the 12th December at the National Museum of Vietnamese Revolution in Ha Noi. More than half of these photos are being displayed for the first time from a total of 110 shots that were taken during the Viet Nam War by war correspondent Chu Chi Thanh.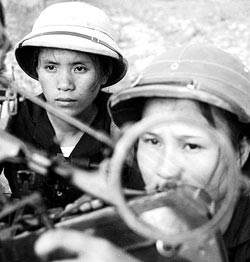 An aircraft-shooting squad captured vividly in this photo
The exhibition will be opened for the next 3 months in HCMC and then in Can Tho City from the 30th April 2008 to mark the anniversary of the Reunification Day.
This black and white photo portfolio is categorized into 8 topics: The Firing-Line in Zone 4; HaNoi – Hai Phong: 12 Days and Nights; Road to the Front Line; The Platoon Without Uniform; The Prime Minister I Loved; Jane Fonda and International Friends; The First Day of Revival, and The War Correspondent.
Some capture unforgettable moments of the bygone war and are portrayed clearly and emotionally within the collection. They are "The Target" which shows the number-one shooter, Pham Thi Gian aiming at an aircraft, "The Aircraft Counter Team in Quang Binh Province" which is the picture of two young girls as taken through peep sight, or the most simple yet popular one "All For Defeating The Americans" which was a line written on the B52 bombs propped up along two sides of the road.
The collection of Hanoi – Hai Phong: 12 Days and Nights, on the other hand, reminds viewers of the period of time when Ha Noi went through the war. The picture of a brave woman who ran into an unoccupied house to save other people is an example.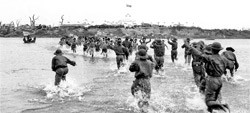 Thach Han River - Spring 1973
In Chu Chi Thanh's portfolio, there are also some touching photos of children and women who suffered the most during the war. For instance, a group of children who survived after a bombardment in An Duong street in 1972, the innocent eyes of little kids looking at the ruins of their houses, or the look of a Bangladesh woman at Vietnamese mothers who were mourning their losses.
Audiences are moved by photos which portrayed the revolutionary soldiers rushing out and hugging their comrades who had been imprisoned for many years and were released in the exchange for POWs in 1973 under the Paris Agreement on the Thach Han River's bank.
There is also a picture of an American couple edging against each other on the other side of the river expressing a humanitarian message that the Paris Agreement brings happiness to both sides.
Their details and dedication are evident in every shot that Thanh took and is a testimony that he has put all his heart into these photos which went far beyond his responsibility as a war correspondent.