American bluegrass musical group The Student Loan will tour Vietnam from February 27 to March 1.
In Ha Long, home to the world-famous bay, the group will perform at the Japan-Vietnam Cultural Palace on February 28.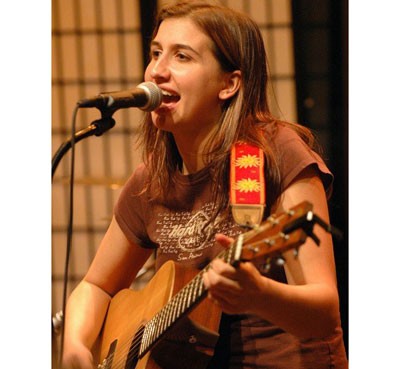 Liz Chibucos, the only girl in The Student Loan band, plays the guitar. The group is set to tour Viet Nam this week.
In Ha Noi, the Tuoi Tre Theater will be the venue on Sunday, March 1.
Before the performances, the group will also hold classes on jazz and bluegrass music for over 200 students and lecturers at the National University of Art Education in Ha Noi on February 27.
The Student Loan is an eclectic four piece bluegrass (a country-music style) band, originally from the state of Ohio and now based in Oregon.
Mixing elements of traditional bluegrass and folk music with elements of rock, jazz and blues, the band has a sound that defies genre and is both familiar and new.
With original songs and a vast library of music from groups as diverse as Bill Monroe, The Beatles, Phish and Sublime, it presents music stemming from the grass roots tradition. Music lovers can access the band's music at http://jalc.org/TheRoad_noFl/embassy1109.html

The group comprises Liz Chibucos (guitar, violin, and vocals), Mark Gerolami (banjo, guitar, and vocals), Julio Appling (Bass and vocals), and Chad Kimbler (mandolin and vocals).