Many cultural events will take place in Ho Chi Minh City to mark the 85th founding anniversary of the Communist Party of Vietnam (CPV) on February 3rd.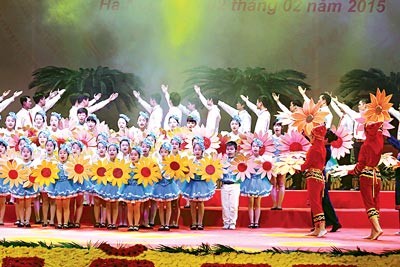 An art performance marks the 85th founding anniversary of the Communist Party of Vietnam. (Photo: Sggp)
Ho Chi Minh City Youth's Cultural House has cooperated with universities and colleges throughout the city to organize music shows called "The glory under the Party's Flag" on February 3.

Concerts will present to listeners popular revolutionary and love songs, such as La co Dang (the Party's Flag), Dat Viet tieng vong ngan doi (Viet land, echo from a thousand generations), Sai Gon quat khoi ((Saigon Rise Up), Dat nuoc tron niem vui (The country with full joy), Dang da cho ta mot mua xuan (the Party giving us a spring), Khat vong tuoi tre (Youth's inspiration), Hoa Co Mua Xuan (Spring Flowers), Cuoc song tuoi dep (Beautiful life) and more.

A propaganda painting exhibition celebrating the CPV's founding day opened at the September 23rd Park.
85 propaganda painting works reflect national pride, patriotism, solidarity power of the whole country, and socio-economic development.
Ho Chi Minh City Television will also broadcasts documentary films on February 3, likely Huong Sen (Lotus fragrance), Duoi ngon co ve vang (Under the glorious flag), Nguoi la niem tin tat thang (Uncle Ho – Our Belief in Victory), Bac Ho song mai (Uncle Ho lives forever), Tong bi thu Tran Phu (Party General Secretary Tran Phu), Tong bi thu Nguyen Van Cu (Party General Secretary Nguyen Van Cu),  music program titled Dang da cho ta mot mua xuan (the Communist Party giving us a spring).
In addition, a film week marking the 85th anniversary of Vietnam Communist Party (February 3, 1930-2015) and the traditional Lunar New Year is being held across the country from January 30 to February 5.

Films on screen include movies namely "Thau Chin (Late President Ho Chi Minh's nickname) in Siam", "Volunteer", and a documentary entitled "Communists".
The film week aims to honor glorious history and combats, promote patriotism and national pride in building and protecting the country.
The event is organized by the National Cinema Department, Film Studio of the Vietnam Cinema Association, Vietnam Feature Film Studio 1, Viet Nam National Documentary and Scientific Film Studio and Vietnam National Cinema Center.