Vietnamese shutterbugs walked away with all the top prizes in this year's Asian Productivity Organization Photographic Contest, which is not too surprising when you consider that 633 of the 841 entries came from this land.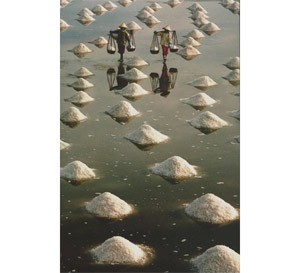 "Good harvest" by Hoang Thach Van
Top prize went to Hoang Thach Van for a picture titled "Good Season", who was rewarded with US$750 and a digital camera.
Silver was won by Dang Ngoc Thai for "Sifting Rice" and Hoang Thanh Thuy for "Grandfather and Grandchild", each of them receiving US$500 and a digital camera.
Behind them with bronze medals were Ho Thi My Lan for "Painstaking Labor", Le Thi Hong Lien for "Morning on the River" and Nguyen Minh Hai for "Fields of Gold". They each scored US$300 and a digital camera.
Nguyen Thi Nhu Tuong and Thai Thien Vinh won special mentions and Pham Anh Tuyet and Tran Thi Hoa scored prizes for merit.
Four special prizes went to entries from Thailand, Indian photographers won two merit prizes, and Japan and Mongolia took home one merit prize each.
In all there were entries from 292 photographers in 12 countries. The prize-winning pics will be featured in the APO's 2007 calendar.

The Asian Productivity Organization, which now numbers 20 Asian and Pacific members, was established in 1961 as a regional intergovernmental organization to contribute to development through enhancing productivity and thereby improve the quality of life.