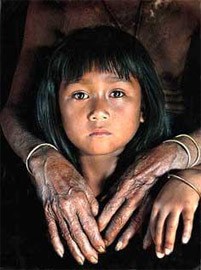 "Eyes and Hands" by photographer Thai Thanh Nien
"Eyes and hands" by photographer Thai Thanh Nien and "Interesting moment" by Quang Ngoc Minh won the special prizes of the Asahi Shimbun 67th international photo contest recently organized in Japan.
Equal-ranking prizes were also awarded to 19 other Vietnamese photographers including those familiar faces like Huynh Ngoc Dan, Hoang Quoc Tuan, Nguyen Hung Vuong and so on.
The contest jointly organized by the Japanese Association of Photography and the Asahi Shimbun newspapers received almost 7,900 entries from more than 1,400 photographers around the world.
The wining photos will be displayed in Tokyo and other Japan's cities in 2007.