Vietnamese movie-lovers have high hopes for Ao Lua Ha Dong (The White Silk Dress), a film directed by Luu Huynh, which was sent to the 11th annual Pusan International Film Festival for the "New Currents" Award.
The opening ceremony of the Asia's biggest film festival will take place at the Suyeong Bay Theater, in Pusan, South Korea the evening of Oct 12 and will be hosted by Korean movie stars Ahn Seong Ki and Moon Keun Young.
The festival has the rare opportunity of screening the Korean film Traces of Love, directed by Kim Dae Sung, at the ceremony. The highly anticipated love story quickly sold out via internet in only two and a half minutes.
245 films from 63 countries that individually received high marks of appreciation from the jury will be screened during the festival.
The festival's film lovers and jury eagerly await the presentation of the various filmic awards including A Window on Asian Cinema, Korean Retrospective, World Cinema, New Currents, and the new Midnight Passion which introduces 12 international films at successive midnights.
Hong Kong movie star Andy Lau will be in attendance to award the "Asian Filmmaker of the Year" prize. Also expected to attend are numerous international and Korean movie stars and directors including Cha In Pyo, Shin Ae Ra, Moon So Ry, Bruno Dumont, Mingliang Tsai, and Andrea Staka.
A media presence of more than 1,500 employees and 675 volunteers will be strongly felt as well.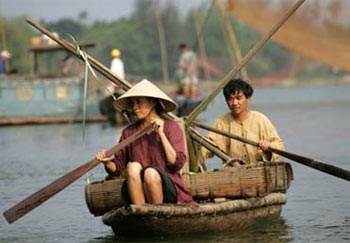 A Scene in Ao Lua Ha Dong
Pusan is being toured today by Ao Lua Ha Dong's star Truong Ngoc Anh, director Luu Huynh and producer Phuoc Sang.

The film follows generations of a family's female members and their relationship with the ao dai (a traditional Vietnamese silk dress) coupled with their attempts keep one precious ao dai in their possession. The movie shows a perspective of Vietnamese family life and the beauty of the ao dai to audiences.

"Ao Lua Ha Dong is an impressive film that cost upwards of US$1 million. We worked incredibly hard to complete the many dangerous scenes and in the end we are very satisfied with all the work that has been done. As well, we are excited to partake in the Pusan International Film Festival because it is a great opportunity for us to exchange experiences and formally introduce Vietnamese film to the world. Of course, we hope that Ao Lua Ha Dong will take the top prize to top it all off," shared Anh.