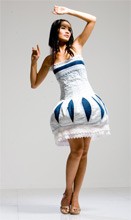 A new mode of designer Huyen Mi
Viet Nam Spring & Summer fashion week 2006 will take place on April 14 to 16, 2006, at Ha Noi Daewoo Hotel.
More than 1,000 designs have been used by Vietnamese designers, such as Minh Khoa, Dieu Anh,Thu Giang, Trong Nguyen, Anh Vu,Huyen Mi, Minh Hanh, etc, to exhibit their personalities and idiosyncrasies and bring about the diversification of colors and designs.
In vogue this Spring & Summer 2006 are light colors, natural materials such as cotton, silk or jean. The designs are daring, mischievous and break the old rules.
In the evening of April 16, Phuong Dong Joint – Stock Garment Company, one of organizers, will present 250 designs which are made of jean. These items produced by high technology production line of RGR Canada, the biggest in Southeast Asia.
This fashion week is organized by Viet Nam National Textile and Garment Corp, The Fashion Design Institute (Fadin), Mot Viet Nam magazine and Phuong Dong Joint – Stock Garment Company.