Viet Nam Television will add a youth-oriented channel to its fast growing network on April 29. Channel VTV6 will feature culture, education and entertainment for teenagers and young adults and be full of interactive programs for the younger set.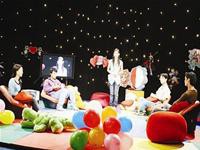 Hong Kong Airlines will be the 24th airline to operate flights to Ha Noi's Noi Bai International Airport.
Among the scheduled talk shows, music and other programs are Nha tron (circular house), Van tay (fingerprint), Ket noi tre (linking youth), Ban tin Con Cua (crab newsletter), Phong mach dau hoi xanh (green question mark in doctor's office) along with music making and documentaries.
Ket noi tre is a discussion forum for 18 to 24-year-olds. The topics cover everything from problems with life, school, and family to lifestyle choices and attitudes.
Van tay with celebrity guest appearances is the place for young people to show off their personality, self-confidence and other strong points.
Nha tron gives support to juveniles who have mental or emotional problems, are in trouble with the law, or simply find it hard to cope with life.
Phong mach dau hoi xanh answers questions about sex and health.

The presenters and guests lined up for Channel VTV 6 include the popular Ta Bich Loan, Diem Quynh and Bach Duong. More presenters are needed for some of the programs and any Vietnamese person is welcome to audition.