First and second prizes at the Asia-Pacific Photograph Competition under the theme "Decent Work for Persons with Disabilities" went respectively to Vietnamese photographers Nguyen Quoc Hung from the city of Vung Tau and Luu Thuan Thoi of Dong Nai province.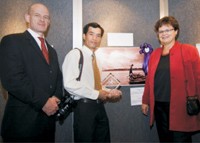 Photographer Nguyen Quoc Hung (C), Mr.Sean Hoy - Head of the representative office Irish Aid in Ha Noi and Ms.Debra Perry - an expert of the International Labour Organization.
The first prize pic', "Casting Net", depicts a "one-armed man" standing on a boat, casting a net. The photographer works for the Japan Viet Nam Petroleum Co. Ltd in southern coastal city of Vung Tau.
The competition is jointly organized by The International Labour Organization, Disabled Peoples' International and Irish Aid.
The contest has been created to raise the awareness of the United Nations international day for disabled people, December 3, and promote understanding within Asia-Pacific of disabled persons and their right to decent work.