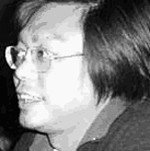 Thai artist Rirkrit Tiravanija, one of foreign directors of the event
"Saigon-Opening City," the largest art exhibit ever to be hosted in Viet Nam, will combine painting, installation art, performance, movies, and photography by local and foreign art-directors and artists.
The multifaceted project will be shown in three main exhibitions to be spread out over the 2006-2008 period: liberation, unification and rebuilding.

The first interdisciplinary exhibition will take place throughout Ho Chi Minh City beginning November 25 with more than 50 Vietnamese and international artists participating and showing their work, including Yoko Ono (Japan), Chris Burden (U.S) and Joseph Beuys (Germany).
The event is organized by internationally renowned Thai artists Rirkrit Tiravanija and Gridthiya Gaweewong. Tiravanija is known around the world for his art and now teaches at Columbia University in New York while Gaweewong was trained at the Art Institute of Chicago and has exhibited in Berlin, Barcelona and Brussels.
The project is supported by the Ford Fund in Ha Noi and the American Center-New York Fund, which are the two major sponsors. In addition, others sponsors include the Ho Chi Minh City Fine Art Museum, the War Remnants Museum, the Southern Women Museum, the Goeth Institute in Ha Noi, the British Council to Vietnam, the Denmark-Viet Nam Culture Development and Exchange Fund as well as the French Consulate in Ho Chi Minh City.