The 20 finalists in this year's "Vietnamese – Japanese beautiful voices" competition must exercise their foreign language skills as well as their singing voices in the final on December 13 at Ben Thanh Theatre in Ho Chi Minh City's District 1.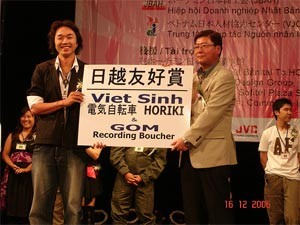 The 2006 "friendship award" winner Pham Huynh Anh Viet (L) is expected to receive the highest honor in the contest 2008 (Photo: Truong Son)
The annual karaoke contest, held by Japanese Business Association of Ho Chi Minh City and the HCMC branch of Vietnam-Japan Human Resources Cooperation Centre (VJCC), is a cross-cultural experience for contestants and the audience.
Vietnamese contestants are required to perform Japanese songs in Japanese while the Japanese contestants perform Vietnamese songs in Vietnamese. Contestants are judged on voice, foreign language ability and performing style.
Sixty contestants - 30 Vietnamese and 30 Japanese - performed at a qualifying show on October 25 at the office of VJCC–HCMC Branch in Binh Thanh District.
The 20 finalists – 10 Vietnamese and 10 Japanese – will perform in the free December 13 concert.
This year's entrants were all passionate about the competition, even those who didn't make it through to the finals.
"I have entered the contest three times," 2006 "friendship award" winner Pham Huynh Anh Viet told SGGP. "The first time I pocketed the friendship award but the second time I came away empty-handed. But the motivation for me to enter the competition is not the prize, only the passion of singing and exploring the culture of Japan."
"I learnt many things, which I could not learn from books, from the other contestants, both Vietnamese and Japanese, and we have shared culture and also experiences in life with each other. We found this competition an `interesting playground'."
The sponsors of this year's competition are APEC, Panasonic Vietnam, Sony Vietnam, Taisho Vietnam, Gunze Vietnam, Kao Vietnam, Acecook Vietnam, Japan Airlines, K-Café and Zipang. The contest was co-organized by the Consulate-General of Japan in HCMC.
The competition has been held annually since 2002 to strengthen the relationship between Vietnam and Japan.