The Goethe Institute in Hanoi is hosting a display of "Ao Dai" (Vietnamese traditional long gown) in combination with a multimedia installation as the first cultural activity in a series to mark the 40th anniversary of diplomatic ties between Germany and Vietnam in 2015.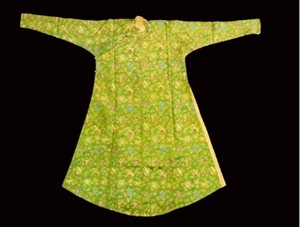 "Ao Dai" (Vietnamese traditional long gown) (Source: vovworld.vn)
Titled "The gorgeous yellow run over pale leaves", the exhibition was opened to pubic on January 15, featuring a collection of "Ao dai" by Thai Kim Lan, a local researcher on German culture.
The outfits were worn by the royal members in Hue, Vietnam's imperial capital under Nguyen dynasty (1802-1945).
They are part of presents granted by the imperial court for Lan's family about 100 years ago.
On the display, the garments were embedded in an elaborate multimedia space installation by German artist Veronika Witte.
Thai Kim Lan left her birthplace Hue city for Munich in 1965 to study German. However, she turned out to be a philosopher, a poet, and a writer of cook books and is a Vietnamese culture ambassador in Germany.
At the opening ceremony, Almuth Meyer-Zollitsch, Hanoi Goethe Institute director, said the event demonstrated a symbol of dialogue between the two countries and more activities will be held to celebrate the bilateral diplomatic ties.
The exhibition will run until January 30.