Contemporary artists in Vietnam confront many hurdles when looking for funding for an art exhibition or project, although they continue to make unending appeals to the government.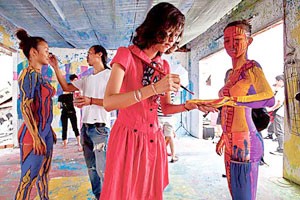 Contemporary artists from the Khoan cat be tong group, creating a new body of work (Photo: Haipiano Nguyen)
According to artist Nhu Huy, Art Director of Zero Station Art Center, the government sponsors other professions annually with a considerable amount of money, except contemporary arts.

Artists are hence left to fend for themselves or seek funding from overseas non-government organizations or culture centres, none of which is easy.

Pham Van Truong, a young contemporary artist said, the money offered by sponsors is usually not enough for the artist to cover his expenses for an exhibition or project.

Even to receive that small sum of money, the artist has to overcome many hurdles, which could mean constant and repeated requests.

Ngo Luc, a well known artist in Vietnam for many remarkable art projects, namely "Vào chợ" and "Ra đường" stated that the complicated process for applying for funds takes months, in which time all inspiration can be lost.     

A large-scale exhibition named "Tầm tã", for example, was expected to launch nationwide last year to present the country's future contemporary artists, which eventually was shelved due to lack of funds.

Artists are therefore thinking of innovative ways to raise funds. Luc, for instance, raised funds via the internet for a project named "Khoan Cắt Bê Tông" for the purpose of setting up a contemporary art center in Hanoi.

He posted an appeal to the community of an online forum to assist in the project. An adequate amount of money was raised, proving the effectiveness of this method.  

Although individual Vietnamese artists face hurdles in funding, many contemporary art groups like Khoan Cắt Bê Tông of Ngo Luc and Zero Station of Nhu Huy continually manage to hold many exhibitions, workshops, seminars and projects.

Presumably these events have touched the sensibilities of those that matter as they have raised a certain amount of awareness in both the public and the government, the chief sponsors of artists in the country.