A delegation of the Viet Nam Photographic Artists Association led by chairman Chu Chi Thanh arrived for the 29th FIAP Congress – Congress of World organization of art photography in Zilina, Slovakia on August 21-29.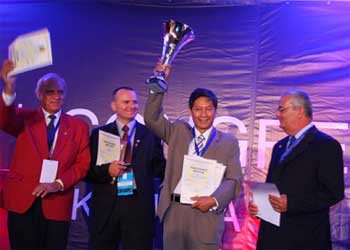 Mr. Chu Chi Thanh (2nd,R) chairman of the Viet Nam Photographic Artists Association, receives the award.
On the occasion the Vietnamese delegation will receive the highest honor at the 29th black and white photo contest held by the International Federation of Photographic Art in Slovakia for a photo collection entitled, "Traditional culture of the ethnic minority groups in the Central Highlands."
The collection including photos taken by Vietnamese photographers Bao Hung, Tran Phong, Hoang Quoc Tuan, Ngo Huy Tinh, Vuong Quoc Kim, Chinh Huu, Nguyen Long, Tam Thai, Ngoc Thai and Le Quang Phu scored a total of 219 points and triumphed over 46 participants from 46 countries to get the highest award.
This is the second time that Vietnamese artists received the grand prize at the Federation's biennial photo contest. Viet Nam also received top honors at the 28th competition held in China in 2006.
The Viet Nam also submitted a proposal for the hosting of the FIAP's 30th congress in 2010.
Held in 1950 for the first time in Bern, Switzerland, the FIAP World Congress, which enables the meeting of the delegates of the member countries and the presentation of the best works created in the past period and presented in the form of national photographic collections, is held every second year in a different country.
The congress last nearly one week and attracts 300 delegates from the 80 FIAP member countries. Apart from the delegate meeting, the following exhibitions and events will be held: The Biennial of Black and White Photography, the Biennial of Young Photographers, accompanying events and trips connected to taking photographs