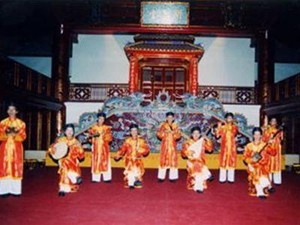 A Hue royal music performance

Hue royal music will fuse with Japan's Uzagaku royal music at a concert in Okinawa on February 14, the Hue Monuments Conservation Center has announced.
Artists of the Hue Royal Traditional Theater will perform nha nhac (Royal music) songs like Tam luan cuu chuyen (Three wheels and nine variations) and 10 bai ngu (A medley of ten pieces).
They will also perform court danced, including pieces like Vu phien (Hand fan dance), Lan mau xuat lan nhi (Mother unicorn bearing a baby) and Luc cung hoa dang (Six offerings with lotus-shaped lanterns).
A delegation of 22 musicians and dancers will visit Japan from February 12 to 15.
The venue for the performance will be the National Theater, which was set up in 2004 to preserve Okinawan traditional arts.
It chooses a single partner-country for the annual performance.