Performers from the Vietnam Circus Federation will take a show, "Lang toi" (My Village), on a world tour for three years, the Federation announced May 5.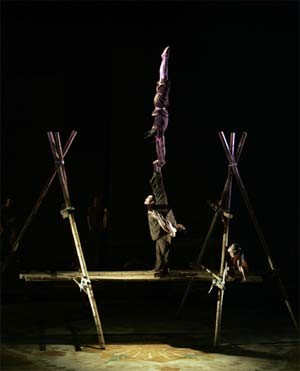 A scene in "My Village" at Hanoi Opera House on May 5
The show is a reworking of a previous performance from August 2005.
The show has been worked on by the Circus Federation and Vietnamese living overseas, such as the director, Tuan Anh, from Germany, and music composer Nhat Ly and circus choreographer Nguyen Lan from France.
The new version gathers less performers, 19 compared with the previous 80, but has added and improved upon the story and performances.
The new version had its debut for one night on May 5 at the Hanoi Opera House before they flew to Europe for the first phase of the tour.
Bamboo is a major fixture of the performance, as it represents traditional images of Vietnamese villages. Bamboo will be widely used for performances and as materials for background sound.
Bamboo is used for such musical instruments as the T'rung (from the Central Highlands), flute and dan moi (widely used by ethnic minorities in Vietnam).
Performers are not only from the circus, some are also professional mime-artistes, who reenact aspects of traditional village life.
The first stop on their world tour is France. After 11 shows, "Lang toi" will move onto Belgium, the U.K, Germany and later the U.S
The world tour is at the invitation of the Scene de la Terre Association of France.