An exhibition called "We Have Eaten the Forest" by French ethnologist Georges Condominas has opened from 11th December 2007 to 16th March 2008 at the Viet Nam Museum of Ethnology in Ha Noi.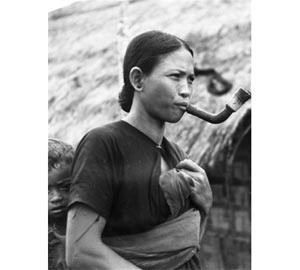 A Mnong Gar woman
This is the second showing of this exhibition, the first being displayed in the Quai Branly museum (France) six months ago.
The exhibition features 143 objects from the village Sar Luk of Mnong Gar ethnic group in the central highland province of Dak Lak including diaries, pictures and video clips of daily activities in Sar Luk from 1948 to 1949.
In addition, there will be a short video clip about the return of Georges Condominas to Sar Luk in 1995 and the latest photos of the changes in Sar Luk by Vietnamese photographer Hoang Canh Duong.
At the exhibition's inauguration ceremony on the 10th, Georges Condominas was awarded a Friendship Medal by the Vietnamese government for his contribution to researching ethnics in Viet Nam.