The year-end Vietnamese fashion market has become very busy. According to fashion designers, there are many new features in this year's fashion trend.
Back to Asia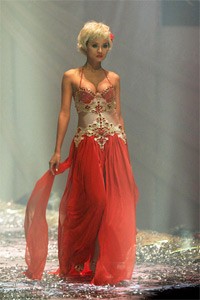 A design of Cong Tri
Designer Anh Vu commented that Vietnamese fashion trend has been influenced by Korean and Japanese styles. This is also a worldwide tendency that is returning to Asian style. Vietnamese fashion is now simpler than those of previous years. It is important to focus on the combination of items so that they look unique and special.
Costumes made of knitting material are loved and so are dark colors such as dark purple, navy or grey.
If lace material was preferred a few years ago, long flapped blouse, relatively loose, combined with cloth belt or modified large belt is very popular at present, designer Dieu Anh emphasized. The belts can be made of wood or leather. This kind of blouse can be worn with jeans or cropped pull pants.

Seeking for baggy jeans and skirts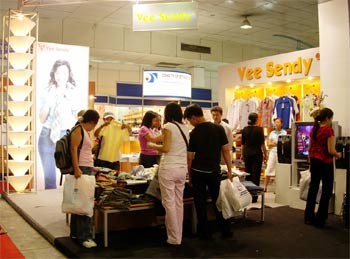 Vietnamese fashion market has become very busy at the end of the year. (Photo:KK)
Unlike Dieu Anh, designer Hau Nguyen Hang said baggy jeans and pant-like skirts are of choice at the moment. Loose straight jeans are very popular with grey or bronze color.
Having same idea with Nguyen Hang, designer Da Thao said loose cropped jeans with many pockets are favored. Long jeans are embroidered along the sides.
Striped costumes are also popular, but according to Quynh Doan – director of Viet Thy Company, people prefer large stripes instead of small ones since they look strong and manly.
She added hip hop style is still well-liked. Designer Anh Vu said while women's clothing is becoming manly, men's look feminine this year. For instance, flowery shirts are very well sold.
The material that fashion designers employ includes raw cloth, cotton, crumpled cloth, which creates comfort, modern and young look.
The majority of designers predict that the fashion trend at the end of this year is going to last until next year. However, it is believed that long flapped blouse with modified large belt will not last long because the body of Vietnamese people is not suitable for this type of costume.