The film Dap canh giua khong trung (Flapping in the middle of nowhere) directed by Nguyen Hoang Diep will participate in the 51st Golden Horse Film Festival and Awards which is scheduled to take place in Taipei from November 6 - 27.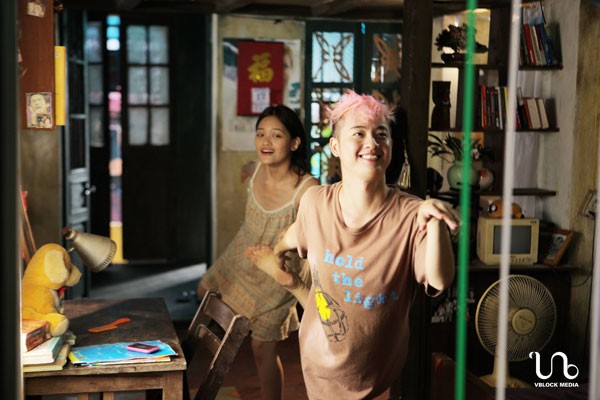 A scene in the film Dap canh giua khong trung (Flapping in the middle of nowhere)
A meeting with the film crew and the screening will be taken place on November 14 and 18.
The film is nominated in the NETPAC(The Network for the Promotion of Asian Cinema) and "Asian window" awards.

Director Nguyen Hoang Diep and actor Pham Tran Thanh Duy will travel to Taiwan (China) for the screening on November 18 and NETPAC Award Ceremony on 19.
The film Dap canh giua khong trung (Flapping in the middle of nowhere) was announced as Best Film of the Venice International Critics' Week awarded by FEDEORA - the federation of film critics from Europe and the Mediterranean in September.
The film is a story about Huyen, a pregnant teenager. She urgently needs money for an abortion. Ironically, the only man that is willing to give it to her has a fetish for pregnant women.

Nguyen Hoang Diep graduated from the Stage and Film University. She produced the short documentary series Changing Lives, as well as the two television shows Chit and Pi and The 10A8 Quartet, which have been a success with young audiences. Flapping in the Middle of Nowhere is her first feature film; Diep is also a producer of the VietnamnetTV channel.

The movie produced by VBlock Media, a local company, in coordination with its French, German, and Norway partners. It will make its debut screening to local audiences at the Hanoi International Film Festival, that is scheduled to take place from November 23-27.
The Golden Horse Awards are among the most prestigious and time-honored film awards in the world of Chinese language cinema. Established in 1962, the awards have given recognition to numerous excellent filmmakers working in Chinese-language cinema. Past winners of the best director award include Li Hsing, King Hu, Li Han-Hsiang, Bai Ching-Zue, Hou Hsiao-Hsien, Edward Yang, Ang Lee, Tsai Ming-Liang, Wong Kar Wai, John Woo, TSUI Hark, Ann Hui, Stephen Chow, Johnnie To, Peter Chan and Jiang Wen.

The most celebrated stars of Chinese language cinema have won best actor and actress awards, including Maggie Cheung, Tony Leung, Shu Qi, Chow Yun Fat, Jackie Chan, Andy Lau, Aaron Kwok, Brigitte Lin, Joan Lin, Charlie Chin and Chin Han.