A lacquer painting exhibition featuring art works by 14 Vietnamese painters will be held at Ganaisa Art Center in Korea's Seoul from July 15-20.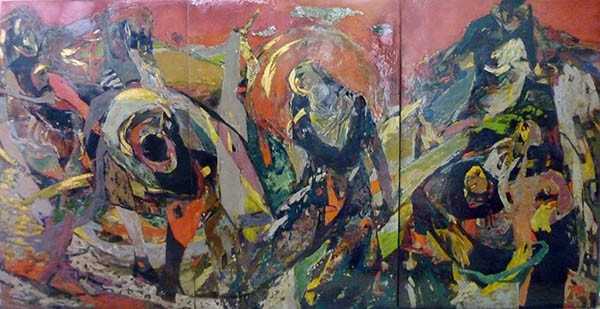 A lacquer painting by Ngo Hai Yen
The Ganaisa Art Center was established since 1983 and has then become a venue for displaying art works of many famous names of worldwide contemporary art such as Antoni Tapies (1990), Sam Francis (1991), Jasper Johns ( 1991), Roy Lichtenstein (1991), Joan Miro (1991), Wilfredo Lam (1991).
The event called "A glimpse of Vietnamese lacquer" has 42 exhibits, including 12 art works containing traditional visual style by artists Ha Anh Tuan, Nguyen Duc Viet, Nguyen Nghia Dau, Nguyen Tan Cuong, Nguyen Hiep Anh and Duc Hung.
Remaining works present modern visual style by Nguyen Truong Linh who won the Gold Prize at the National Fine Arts Exhibition 2010, Tran Phi Truong, Nguyen Hai Nam, Do Khai, Pham Thang Long, Hoang Huu Van, Ngo Hai Yen and Dang Hien.

Lacquer is a special type of material extracted from lacquer tree, appeared in Vietnam from 2500 years before, often used in making furniture, worshiping items and crafts. Many Vietnamese lacquer paintings were stored and kept at national prestigious museums and abroad.

The display is expected to contribute in promoting the cooperation and exchange of the art and culture between the two countries, as well as introducing Vietnamese tradition culture to art lovers in South Korea and worldwide.