The Vietnamese International Film Festival (VIFF) 2007 will open in California on April 12 under the theme "Sharing vision" and will include a total of 51 films including 13 features submitted by filmmakers of Vietnamese descent from around the world.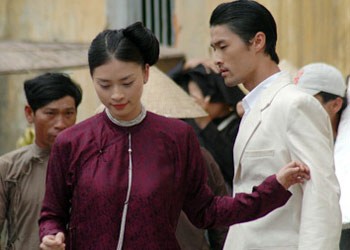 Actress Ngo Thanh Van and actor Johnny Tri Nguyen in a scene of Dong mau anh hung (The rebel).
VIFF 2007 will open with the world premiere of the visually stunning martial arts drama, The Rebel, directed by Charlie Nguyen and close with the debut of the warm-hearted feature, Owl and the Sparrow, directed by Stephane Gauger on April 22.
The "Spotlight Program" on April 14th will showcase screenwriter Nguyen Thi Minh Ngoc, whose work is featured in the film Song trong so hai (Living in Fear) directed by Bui Thac Chuyen.
Six made-in-Vietnam features, including Chuyen cua Pao (Pao's story), Song trong so hai (Living in Fear), Hon Truong Ba da hang thit (Souls on swing), Hat mua roi bao lau (Bride of Silence), Ao lua Ha Dong (the White silk dress), and Dong mau anh hung (the Rebel) will also be screened at the festival.
The VIFF was established in October 2003 to support and promote movies produced by filmmakers of Vietnamese descent. Organizers of the event aim to inspire future filmmakers, recognize existing ones and provide a forum for the filmmakers to share their experiences with colleagues and audiences.
The VIFF is organized by the Vietnamese-American Arts and Letters Association (VAALA) and the Vietnamese Language and Culture Club (VNLC) at the University of California, Los Angeles.