Two Vietnamese movies have been selected to take part in the Republic of Korea - ASEAN Cinema Weekend which will be held in Indonesia's Jakarta from November 7-9.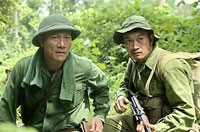 Hoang Hai and Truong Minh Quoc Thai (R) with the film 'Nhung Nguoi Viet Huyen Thoai'
The event aims to mark the 25th anniversary of diplomatic relations between Korea and ASEAN countries.

Two Vietnamese films include Nhung Nguoi Viet Huyen Thoai (the Legend Makers) and Banh mo (Dreaming cake).

Of these, the Legend Makers won the golden lotus prize at the 18th Vietnam Film Festival in 2013 and Dreaming cake was granted the first award at the Toto's Film Making Class. It is organized by the CJ CGV, the largest multiplex cinema chain in South Korea in 2014, to train young talents in Vietnam who dream about making films.
The event will also screen movies from Thailand, Brunei, Malaysia, Indonesia and Korea.