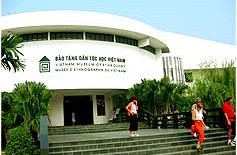 The Vietnamese Museum of Ethnology
The Vietnamese Museum of Ethnology has just received a collection of 134 ancient objects from collector Nguyen Hoai Nam. The collection includes valuable and significant objects in research of the history of pottery development, diversity of using functions of these objects and life of the ancient people in northern Viet Nam.
The collection including household pottery of the Dong Son and Han period has been gathered for many years.
Especially, there are nine tools which are over 5,000 yeas old and were used to make fire by the prehistoric man, the collector guessed.