Nguyen Bich Thuy, a 30-year-old lecturer at the Vietnam National Academy of Music, was awarded fourth prize at the International Vocal Competition held in China's Ningbo City.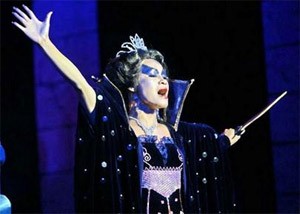 Opera singer Nguyen Bich Thuy
"This is the first time a Vietnamese opera singer has won at the competition," remarked People's Artist Trung Kien, "Thuy was highly appreciated at the contest as she impressed 11 strict judges."
The competition is held every three years under a different theme each time, with this year's theme focusing on opera. Thuy was selected among 200 contestants from 26 countries including the US, Russia, Canada, China and The Republic of Korea through three rounds of tough competition.
As Thuy's master, Kien accompanied her to China for the length of the competition from October7-20, and witnessed how Thuy overcame the pressure.
During the contest, contestants weren't allowed to use microphones in the theatre that seats 1,000.
Among 200 candidates, only 12 were chosen for the final round. In this round, two contestants chose to sing Chinese opera songs, including Thuy and a Chinese competitor. Thuy came out on top, with a song that originated from a well-known poem by Dufu, a poet from the Tang dynasty.
Thuy has previously won several prizes from various international music contests, including a first prize at the Bangkok Vocal Opera Competition in 2002.