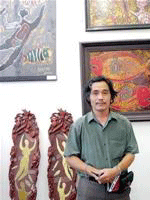 Painter Dao Minh Tri
At the invitation of the National Taiwan University of Arts and Taiwan Fine Arts Association, six Vietnamese painters, including Dao Minh Tri, Ho Huu Thu, Duong Sen, Truong Han Minh, Truong Lo and Ly Khac Nhu, take part in a painting exhibition from August 23 to September 3 in Taiwan.

"Each of us brings ten paintings namely lacquer and water-colour paintings for the display," says painter Dao Minh Tri, chairman of the Ho Chi Minh City Fine Arts Association.
"This is the first time that Vietnamese painters participate in a painting exhibition in Taiwan. This art exchange aims to strengthen friendship between Viet Nam and Taiwan," adds painter Ho Huu Thu.