Photographer Tran Vinh Nghia from Phan Thiet city won the first prize of the international photo contest titled "Picture this: We can end poverty".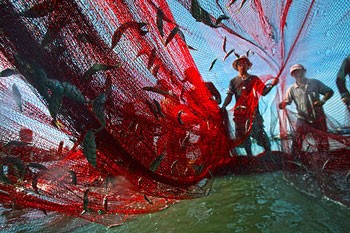 The wining photo entitled "Daily work" by Tran Vinh Nghia.
The wining picture entitled Cong viec thuong ngay (Daily work) was taken in Phu Hai fishing village in an early morning, said the photographer.

The photo depicts fishermen getting fishes out of a net. They work hard and hope to escape chronic poverty, he explained.
"Picture This: We Can End Poverty" competition is looking for photos depicting people taking action to achieve any of the 8 Millennium Development Goals: eradicating extreme poverty and hunger; achieving universal primary education; promoting gender equality and empower women; reducing child mortality; improving maternal health; combating HIV/AIDS, malaria and other diseases; ensuring environmental sustainability and developing a global partnership for development.

The photo contest organized by the United Development Nations Program (UNDP) in partnership with Olympus Corporation and the Agence France-Presse (AFP) Foundation was opened to amateur and professional photographers worldwide.
The awarding ceremony honoring the first prize winners in the Amateur and Professional categories took place on September 15 in the United Nations headquarters in New York.

An exhibit featuring the winning photos will be held during the Summit on the Millennium Development Goals in New York.