A get-together of Vietnamese record holders took place on Tuesday evening in the city of Da Lat as part of the Dalat Flower Festival 2007 scheduled for December 15 to 22.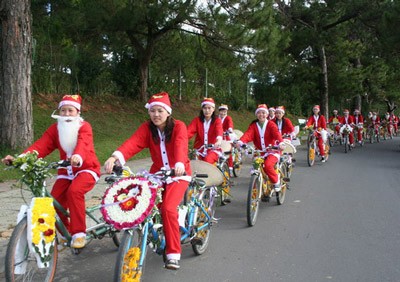 More than 200 students in Santa-Clause suits break the record "Viet Nam's parade with most Santa Clauses" in Da Lat (Photo: Dan Tri)
The gathering started with a parade of Viet Nam's records, including the biggest coffee cup, just recognized at the recent Coffee Culture Week in Ho Chi Minh City.
The Viet Nam Records Book Center (Vietbooks) granted certificates and souvenir cups to 10 new members of Da Lat's S100 club, a group of elderly 100 years old or more. The number of S100 clubs in Ho Chi Minh City, Ha Noi, Binh Thuan and Lam Dong is now 107.
Visitors also had a chance to watch spectacular acts like, and we quote, "spurting milk through eye corners", "blowing teddy bears with eyes", "breaking stones on a spike-board" and "pulling a seven-ton truck with one's head".
The program also honored eight records which were just broken during the festival, like the longest wedding dress, the longest wedding photo, the flagstone with the most signatures of newly weds on it, the biggest wooden wine barrel and the biggest teapot in Viet Nam.
Earlier, more than 200 students of the Dalat Teaching College dressed in Santa-Claus suits for a ride round Xuan Huong Lake on tandem bicycles and 40 mopeds. The show was recognized by Vietbooks as Viet Nam's parade with the most Santa Clauses.