Chay An (Buying Justice), a film made for television by the Viet Nam Film Centre, won the "Best Foreign Language Film" prize at last week's Tokyo International Film Festival.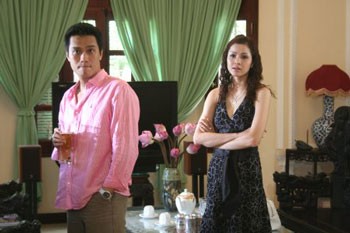 A scene in the film Chay an (Buying Justice)
Chinese entry Soldiers Sortie, Korea's The Golden Bride, and Indonesia's Searching for God also won awards.

One of the "Invited Foreign Dramas", the 22-episode series featuring controversial issues like corruption, fraud, and drug addiction was screened on NHK channel during the event.
Its director Vu Hong Son and two main actors, Dung Nhi (in the part of deputy minister Cao Duc Cam) and Phan Hoa (Miss Minh Phuong), arrived in Tokyo for a discussion about the film.
The Tokyo International Film Festival, established in 1985, is one of the biggest TV film fests in the region along with the Seoul Drama Awards and Shanghai TV Festival.

Besides the top award, the "Tokyo Grand Prix", the jury also honors the best actor, best actress, best director and others. It was held from October 22 to 25 this year.