Vietnamese photographers won the two most prestigious prizes at the 20th Daejeonilbo International Great Photo Contest 2010.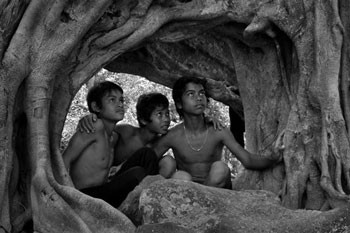 Photo titled "To escape" by Dang Ba Tien.
Huyng Cong Ba and Hoang Quoc Tuan won gold medals for their color and black and white photos "Evening Sunlight" and "Smiley on Rice".
Photographer Dang Ba Tien of the Lao Dong Newspaper also received a certificate of Merit for his picture titled "To escape".
In related news, a photo exhibition featuring 108 pictures by young photographer Tran The Phong is being held at the Ho Chi Minh City Exhibition House in District 1.
The photos depict the harsh livelihood and resilient optimism of Vietnamese women throughout the country.

All proceeds from the photo sales of the display titled Ganh (carrying yoke) will be used to help the poor children of the city.