Vietnamese writer Nguyen Chi Trung was among eight ASEAN artists to receive the 2011 Southeast Asian Writers Award (SEA Writers Award) on Feb 16.
However, the awards conferring ceremony had been delayed to 2012 due to the floods in Thailand last year.
Trung was born in 1930 in the central province of Da Nang. He served in the Vietnam People's Army in the rank of Major General. He has worked in Ve Quoc Quan newspaper, Van Nghe Giai phong Quan and as vice editor-in-chief of Van Nghe Quan Doi magazine.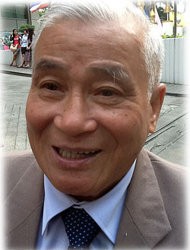 Writer Nguyen Chi Trung
He won a prize in 2007 for his novel Tieng Khoc Cua Nang Ut (The Cry of Ms Ut), based on the life of a young woman during the Tra Bong up-rising against the US-backed Saigon regime in the central province of Quang Ngai in August 1959.
The novel had earlier scooped up a Vietnamese Writers' Association award in 2008.
He is also author of several short stories and novels: Da Nang (1950), Buc Thu Lang Muc (Letter from Muc village) written in 1964, and Doi thoai trong dem (Dialogue in the night) in 2011....
The SEA Writers Award has also been awarded to several other Vietnamese writers and poets, including Nguyen Ngoc Tu (2008), Cao Duy Son (2009), Nguyen Nhat Anh (2010), Bang Viet (2003), Nguyen Khai (2000), Nguyen Duc Mau (2001),Le Van Thao (2006), To Huu (1996), Ma Van Khang (1998), Tran Van Tuan (2007) and Huu Thinh (1999).
Founded in 1979 with support of the Thai Royal family, the annual award recognises and honours the works of contemporary poets and writers in Southeast Asian countries.