Renowned Australian classical guitarist Minh Le Hoang will perform at the Ho Chi Minh City Opera House on December 14 with the city's Conservatorium Chamber Orchestra, the Australian Consulate General in the southern metropolis has announced.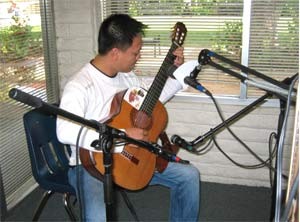 Guitarist Minh Le Hoang
The 'one night only' performance will start at 8 pm. The show is free but tickets are limited and fans need to book early with the Australian Consulate General at (08) 8296035, Ext. 134 by December 12.
In the first part of this performance, Minh will present works by J.K Mertz/F.Schubert, Ross Edwards, Gentil Montana and Alberto Ginastera. In the second part, he will perform the Concierto De Aranjuez for guitar and orchestra by Joaquin Rodrigo together with the Ho Chi Minh City Conservatorium Chamber Orchestra.
As part of Minh's program of musical exchange with Viet Nam, he will also host masterclasses with students and lecturers of the Ho Chi Minh City Conservatorium on December 15. He will play classical music, give a presentation, take questions from students, and encourage participants to play with him.
Minh Le Hoang is one of Australia's finest young guitarists. The Australian of Vietnamese origin regularly performs as a soloist and recitalist both nationally and internationally. An outstanding graduate of the Canberra School of Music with the highest mark ever achieved, Minh won the prestigious Adelaide Spring Guitar Festival 2001 Competition.

Minh has recorded two solo guitar recitals for ABC Classic FM as part of the Young Australia Program, both of which have been broadcast nationally.
In 1991, he resettled in Australia together with his family. Then Minh joined the the Canberra School of Music at the age of 15. Le is his family name, Minh is his first name, and the full name in Vietnamese order is Le Hoang Minh, to make it clear.