A set of stamps featuring Vietnam's symbolic architectural heritage and landscapes was unveiled in Paris, France, on February 5.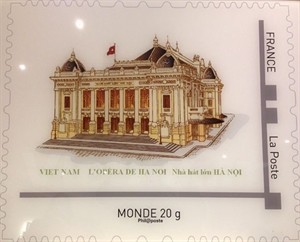 A stamp features Hanoi's Opera House (Photo: VNA)
The stamps highlight Hanoi's Opera House, the Truong Tien Bridge spanning the Huong River in the central city of Hue, and the Nha Rong wharf in Ho Chi Minh City.
Among the 14,040 stamps issued, 1,000 will be applied to letters inviting the Vietnamese community and French representatives to attend an event in honour of the Lunar New Year to be held by the Vietnamese Embassy on February 19, the first day of the lunar year.
The stamp set's release was organised through cooperation between France's national postal service La Poste, the Vietnam Post Corporation, and the Vietnamese Embassy.
Vietnamese Ambassador Nguyen Ngoc Son said the stamps demonstrate a shared history between the two nations through images of French-style architectural structures, adding that they help strengthen cultural exchange and mutual understanding.
Beatrice Roux, Chief Executive Officer of La Poste's International Mail, said the set contributes to French and Vietnamese cooperation and bilateral relations.
Earlier, La Poste collaborated with Vietnamese partners to publish a stamp on Ha Long Bay in 2008 and another on physician Alexandre Yersin in 2013.