An ongoing exhibition of Vietnamese ceramics entitled Dragon and Lotus Blossoms is being held at the Birmingham Museum of Art in the US state of Alabama.
The exhibition, the largest ever of its kind in the US, was organised by Dr Donald A Wood, the museum's Curator of Asian Art and John Stevenson, one of the leading experts in Asian Art in the US. More than 200 Vietnamese ceramics are on display, including objects from 15th and 16th century which feature decorations in blue and white – historically important colors for Vietnamese ceramics.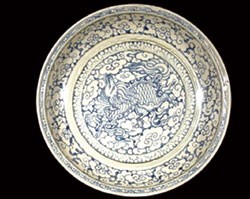 Blue glaze: One of the ceramic objects on display in the US (Photo: Vietnam News Agency)
The entire collection is also featured in the exhibit's accompanying catalogue, which includes major essays by Stevenson, Wood, and Philippe Truong, an independent expert of Vietnamese ceramics
There were very few publications in English on Vietnamese ceramics, said Wood. This catalogue contains the latest research on the subject by some of the most respected experts in the field.
Wood said this was an opportunity for the American public to contemplate fine art which was rarely seen in the country and explore the rich history of a country which played not only an important role in American history, but also in its future.
The Birmingham Museum of Art began collecting Vietnamese ceramic objects in 1970 and now has one of the largest collections in the US, keeping company with the Museum of Fine Arts in Boston and the Metropolitan Museum of Art New York City.
Although they learned this art from China, they created their own unique characteristics and developed production technologies to create the finest ceramics in Southeast Asia, Wood said.
The exhibit, which opened on January 22, will run through April 8.