The Vietnam Museum of Ethnology ranks fourth in the list of Asia's top 25 attractive museums in Asia, up from sixth place in 2013, according to Museum Director Vo Quang Trong.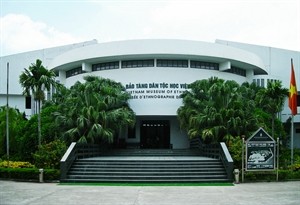 The Vietnam Museum of Ethnology (Source: VNA)
For the third year in a row, the museum has been rated highly by tourists via the travellers' choice section on the travel website www.tripadvisor.com.
A number of promotional activities have been run by the museum, including a series of events on Vietnam and South East Asia's ethnic cultures.
Established in 1997 in Hanoi, the Museum has been complimented for its efforts to bring history and culture to life. It is famous for its collections on the historical and cultural features of Vietnam's 54 ethnic groups, as well as the cultures of other ASEAN member states.
The Bronze Drum Building displays over 1,500 artifacts and more than 42,000 visual exhibits, including documentary films, photographs and documents, in a number of exhibition spaces organised carefully into different categories. Visitors can immerse themselves in exploring the cultures of the Vietnamese people by examining day-to-day objects and traditional architecture, including Rong houses, stilt houses and collective tombs.
The museum welcomed more than 283,000 visitors during the first nine months of this year, with 30 percent of them hailing from outside of Vietnam.-VNA