The Vietnamese Embassy in the UK and the Oc Eo Art Gallery , which specialises in Vietnamese painting and Asian fine art, opened an exhibition showcasing paintings that depict the beauty of Vietnam's land and people in London on June 20.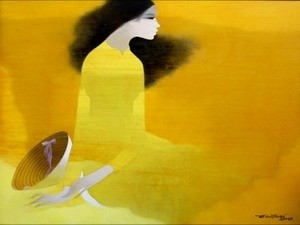 A painting by Do Huy Tuan (Source: VNA)
The exhibition, entitled " Land of Hidden Charms ", is the first of its kind opened at the Vietnamese Embassy in the UK so far. It features ten paintings, including the "Girl with Lotus Flower" by Nguyen Thanh Binh, "The Hue Style" by Do Duy Tuan, "Ancient Streets in Rains" by Duong Ngoc Son and "Entering the Spring" by Pham Hong Son.
The Vietnamese Embassy in London and the Oc-Eo Art Gallery have previously jointly held a number of exhibitions of Vietnam's paintings, including one at the Asian House in London in April 2009 and another on the occasion of the Vietnamese Cultural Day in the UK in October 2009.