Twenty-five contestants for Vietnam Supermodel 2009 on May 25 began three days of preparations for the finals, it was recently announced by HCMC TV.
 
The contestants will spend time in Ho Chi Minh City before the month long finals from May 28 to June 28.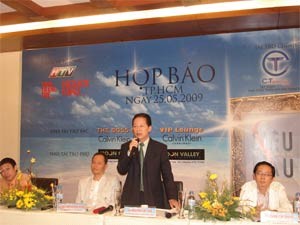 Mr. Nguyen Chi Tan, deputy director of HTV talks to the press May 25 (Photo: Truong Son)
The contestants, 13 male and 12 females, were chosen from 100 applicants and will receive professional model training by Nathan Lee, creative director of Nguoi Mau magazine, and Amanda Scott, a highly rated model in France.

They will be taught how to pose in front of camera, how to present themselves on the catwalk, creating their own fashion styles and make-up.

During the finals, the contestants will have to successfully fulfill three events, including photo shoots, catwalk and advertising products, and charitable work.
 
Every contestant will have ten minutes in front of camera, with professional stylists and photographers from Nguoi Mau magazine leading the way.
 
The photo shoot will be recorded for a one-hour program to be broadcast HTV7 at 7pm on June 6.
 
Contestants will present their other modeling skills at the Hung King Temple in District 1 and C.T Plaza in Tan Binh District.
 
Contestants will model traditional Vietnamese and modern clothing, which will be broadcast on HTV7 at 7pm on June 13.
 
Contestants will then visit and present gifts to homeless people and disadvantaged children on June 28. The contestants will also have to perform to entertain the children.

This can be seen on HTV7 at 7pm on June 20.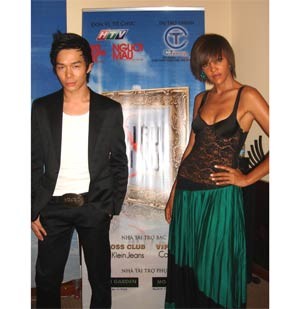 Nathan Lee (L) and Amanda Scott pose together before training their "students" (Photo: Truong Son)
The new supermodels will be announced on television a week later.

The final night on June 28 will consist of three events: showing off self-designed clothing, an evening dress event and swimwear.
 
Only the remaining top ten contestants, five males and five females, will progress onto the Q&A session.
 
The winners will receive VND100 million (US$5,710), the runner-ups VND50 million (US$2,850), third placed pocketing VND40 million (US$2,280) and fourth VND20 million (US$1,140) each.
 
Other titles to be awarded include Best Body, Most Impressive Style, Miss and Mr. Photogenic and most popular contestant, as voted for by the public.
 
The contest will end with a gala dinner at the Moon Garden on June 30, with past winners and local models attending.
 
The sixth Vietnam Supermodel is organized by Ho Chi Minh City TV, Thoi Trang Tre magazine and Nguoi Mau magazine, sponsored by C.T Group. 

Related article:
Search for new Vietnamese supermodels to kick off