The Culture-Tourism Village of Vietnamese Ethnic Groups will welcome tourists in 2010, coinciding with the 1,000 th anniversary of the country's capital city - Thang Long-Ha Noi.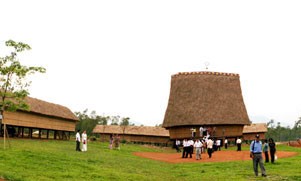 Village of Gia Rai tribe in the Culture-Tourism Village of Vietnamese Ethnic Groups. (Photo:nhandan)
The village covering a total area of over 1,500 ha in the southern part of Dong Mo-Ngai Son Lake is located about 35-40km from the centre of Ha Noi.
Once totally completed in 2015, the village will become a national cultural, sports and tourism centre and a live museum of ethnology which features unique characteristics of Viet Nam's 54 ethnic groups.
A recreational centre and a restaurant-hotel complex will be built to serve visitors in addition to an area of world cultural heritages and cultural works.
The village is expected to become an attractive destination for domestic and foreign tourists in the next several years, especially when the Lang-Hoa Lac Highway is completed, enabling tourists to travel 30 minutes by car from Ha Noi's downtown to the location.