A Vietnamese movie star and music producer will play one of the supporting roles in a sequel to the 2000 Hollywood blockbuster Crouching Tiger, Hidden Dragon.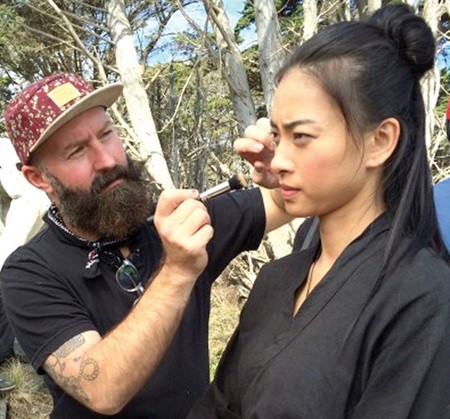 Prep time: Ngo Thanh Van will play a supporting role in Crouching Tiger, Hidden Dragon II: The Green Legend. — Photo thethaovanhoa.vn
Ngo Thanh Van, who is fluent in English, will appear in the new film, called Crouching Tiger, Hidden Dragon 2: The Green Legend, a production directed by Yuen Woo-ping and written by John Fusco.
She competed against many candidates from other countries in the region.
The film is based on the fifth and final novel in the pentalogy, known in China as the Crane Iron Pentalogy, by Wang Dulu.
It stars Michelle Yeoh, who performed in Ang Lee's 2000 edition Crouching Tiger, Hidden Dragon, and Donnie Yen.
Produced by The Weinstein Company, it will be in cinemas in August.
Van took a flight to New Zealand to complete her first scenes last October. She will film her last scenes in China in April.
Because the film is an action film, Van learned kung fu with experienced martial artists.
"I'm confident of my ability," says Van, who has more than 10 years in the movie industry.
Returning home from Norway, Van began her career on the catwalk in 2000, becoming one of HCM City's top fashion models.
In 2003, the 24-year-old girl worked with music producer Quoc Bao on the album NTV Virus-World of Game, the first dance music album in Viet Nam.
She converted more listeners to dance music and helped spread the new style to places other than discotheques.
For her second album, Bi An Vang Trang (The Moon's Mystery), Van worked hard as a martial artist.
One year later, Van played one of four leading roles in Rouge, a TV 13-part series by renowned Singaporean director Jonathan Foo. The work was broadcast on MTV Asia, a cable television channel broadcasting international music.
She was selected from 400 candidates from Asian countries.
The film opened a door to her for becoming a movie star in the region.
She has won young crowds with her performance in quality films by Vietnamese and Viet kieu directors.
Van appears to enhance her talent as a movie producer in the new film Ngay Nay Ngay Nay (Once upon a Time), which will be released this week.
The 90-minute piece is a co-production between Van and her partner, Canadian-Vietnamese director Cuong Ngo.
Ngay Nay Ngay Nay's trailer was released online, and praised by more than 40,000 viewers.