A seminar took place last week on the unique attributes and international popularity of Pho (Vietnamese rice noodle soup) at the second annual "Taste of the World" food festival at Van Thanh Tourist Park, Ho Chi Minh City.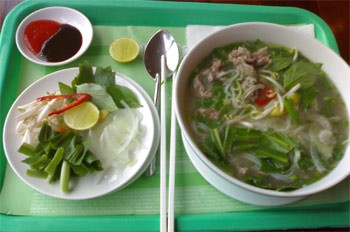 Pho is Viet Nam's national dish and relects the wet rice civilization of the country and the Southeast Asia.  (Photo:KK)
Pho was created by the Vietnamese, is a national dish and reflects the "wet rice civilization" of Viet Nam and the Southeast Asia, says the report of Doctor of History Nguyen Nha, Director of the Viet Nam Cuisine Research Institute.
To date, Pho is represented in more than 20 countries round the world, such as France, US, Japan, Canada, Australia, Thailand, wherever Vietnamese have settled, and more.
It has been voted best Vietnamese dish by international visitors and its ubiquitous scent is incessantly reviving expats' nostalgia.
The dish has become a brand of Vietnamese culture and left a deep impression to foreign visitors, proposes Prof. Nguyen Thuyet Phong.
Le Phu Cuong, a Vietnamese-Australian and Asia-Australia art and culture development officer in Sydney, has produced a multimedia performance-art program entitled "I Love Pho" through which the dish is explored in cultural activities including seminars, festivals and fine art, drama, film, literary performances.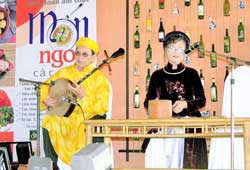 Artists The Tuyen and Thuc Anh (R) perform Ca tru (ceremonial folk song) in the project "I love Pho".
"I Love Pho" restarts the research into Vietnamese cuisine and its propagation to the world.
The program's opening performance is to be a fine-art exhibition entitled "I Love Pho", at the Melbourne Cuisine Festival in February 2008.
The project is organized by Sydney's Casula Powerhouse with the support of the Ministry of Arts of New South Wales, Australia.
After discussion, the Viet Nam Cuisine Research Institute will release two books called "Viet Nam's Pho Culture" and "Vietnamese cuisine through foreigner's eyes". The institute will also plan to hold seminars and festivals related to Pho next year.