Organizers of the Super Model Contest 2011 will soon begin their search for both male and female models between 18 and 25 years of age at various locations throughout the country.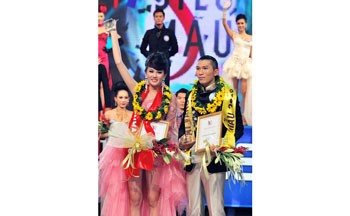 Models Ngoc Thach (L) and Ngoc Tinh win golden prizes at the Super Model Contest 2010
Contestants are expected to be high school graduates and of minimum height of 1.7m for male models and 1.65m for female models.
They will compete in a shooting contest, take part in product advertising, perform a catwalk and participate in many social activities.
Prizes will be awarded for 'The Best Body', 'Most Photogenic Model', and 'Most Impressive Model'.
There will also be 'Best Cooperation' prize between contestant, photographer and makeup artist.
The organizers are HCMC Television, Cat Tien Sa and Thoi Trang Tre Magazine. Applications will be received from August 15 to 30.